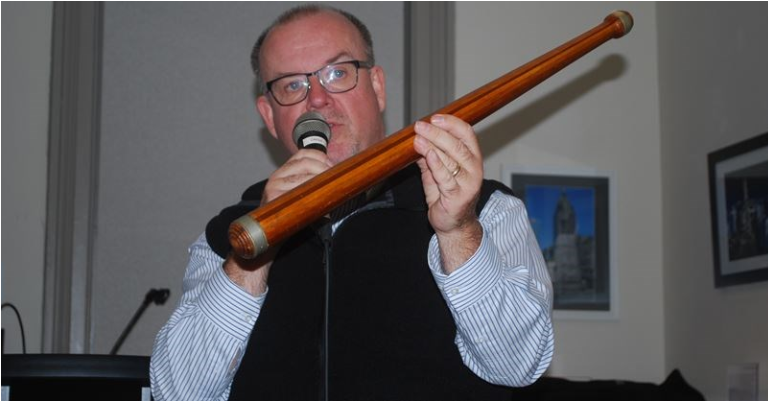 Kerry McNamara, a member of the Dundas Museum & Archives board of directors, displays an historic baseball bat that is part of the museum's collection during the Dundas Valley Historical Society's presentation Sports: A lasting legacy,Oct 2017. - Craig Campbell
Sports have left — and continue to build — a lasting legacy in Dundas, even for those who don't directly participate.
From the Dundas Real McCoys, who brought the eyes of the nation to the Valley Town when the Sr. A hockey team won the Allan Cup national championship in their home arena and also donate to charity on every game night, and the powerhouse Dundas United Soccer Club of the 1980s — who paid their own way to a national championship final in Victoria while celebrating the camaraderie and skill of the game, to the Dundas Chiefs Baseball Club and little league baseball — who helped build new baseball infrastructure that would introduce future generations to the game, Dundas' history is filled with fascinating sports stories.
A small cross-section of those legacies were shared by some who have played a role in that long legacy last Thursday evening at Dundas Valley Historical Society's Sports: A Lasting Legacy presentation at Dundas Museum and Archives.