Blues knock off Niagara Riverhawks in 6 games!
Blues now face 1st place finisher, Glanbrook Rangers.
---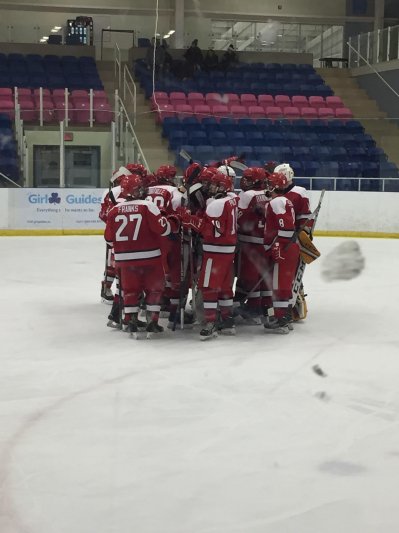 The Hamilton Huskies Jr Blues advanced to the second round of the playoffs after knocking off the Niagara Riverhawks.
The Riverhawks won the first two games then the Blues woke up and won four straight to take the series 4 games to 2. The first four games were all one goal games with Niagara winning the first two 3-2 and 2-1. Game three was 5-4 for the Blues then game four was 3-2. Game five and six the Blues started to figure out the Riverhawks goalie putting 6 by him each game for scores of 6-2 and 6-4. Blues goaltender Jake Fleming was solid in net for the Blues and was definitely the player of the series.
The Blues now move on to round two against the Glanbrook Rangers who finished the season in first place. The schedule for the best of 7 series is as follows:
Wed. Feb. 20th Blues @ Glanbrook 7:30pm
Thurs. Feb. 21st Glanbrook @ Olympic 8:20pm
Sat. Feb. 23rd Glanbrook @ Olympic 7:30pm
Sun. Feb. 24th Blues @ Glanbrook 7pm
if necessary
Wed. Feb. 27th Blues @ Glanbrook 7:30pm
Thurs. Feb. 28th Glanbrook @ Olympic 8:20pm
Sun. Mar. 3rd Blues @ Glanbrook 7pm
Come out and cheer on the Blues, your local junior hockey team!