Dundas's Art Samson honoured at new high school track & field opening
Educator and community volunteer runaway choice
---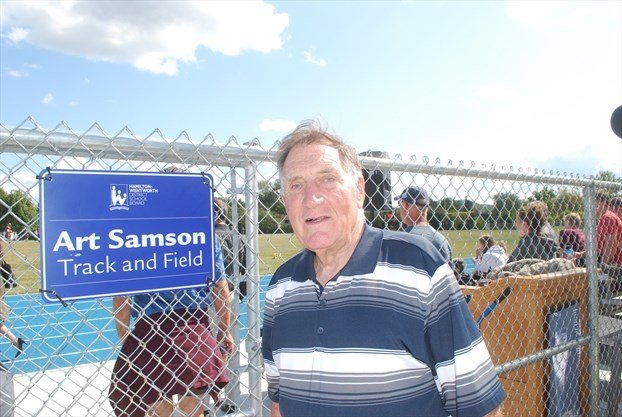 It's probably not a surprise that Art Samson, partway through his speech at the official naming of Dundas Valley Secondary School's new track and field in his honour, handed the microphone to someone else.
Samson has been putting others before himself for more than 50 years, and it's the wider-community that benefits. His decades of work in local education and youth sports made Art Samson Track & Field the runaway choice for the new facility's name.
Football players from Dundas Valley and Sir Winston Churchill lined up on the new field as speakers honoured Samson, patiently awaiting kickoff for the Gryphons home opener.
As a former football coach, I know we have to start them on time — so I'm not going to take too much time, Samson said.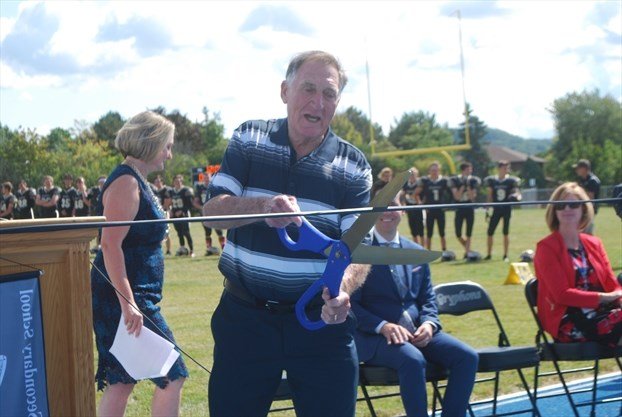 The current DVSS football coach, Samson's son Mike, gave the Indigenous territory acknowledgment.
Local school board trustee Paul Tut recognized the efforts of previous trustee Greg Van Geffen on the field and its name.
"It's our hope this investment will help (Samson's) legacy to live on with current and future students," Tut said. "I'm sure he'll be the first to tell you — sports matters … it brings the community together … it teaches discipline … it fosters inclusiveness."
Hamilton mayor Fred Eisenberger said it was a pleasure to honour Samson's contributions.
"They're not small," Eisenberger said. "He's always done it in an unsung kind of way."
City councillor Arlene VanderBeek noted Samson's work not only as a teacher, and principal at Highland and Parkside, but as a Catholic school board trustee, Town of Dundas councillor, Hamilton city councillor — and his support of several community groups, chief among them Routes Youth Centre and the Dundas Junior Hockey Club.
In my opinion, no one is more deserving of this recognition than Art Samson, VanderBeek said.
When it was Samson's turn to speak, he took the time to recognize others — former Highland track star George Rioux, and former Highland teacher and track coach Nick Cioran.
Samson said Cioran, a star quarterback at McMaster University who was drafted by the Montreal Alouettes in 1960, but was stuck as a backup to Hall of Famer Sam Etcheverry, was a teacher coming to Highland when it opened in 1966 — and expected to be the school's first football coach. But Cioran wanted to coach track instead, and the gridiron job went to Samson.
He handed to microphone to his guest, Rioux, to talk about the 1966 provincial champion Highland track team. Samson said he would have liked Cioran to be there too, but he died last summer.
Samson told DVSS students to focus on sportsmanship and fun — but also recognize that the track and field was foremost a place of teaching.
"This is a great facility. I want to congratulate the board on what they've done," he said.
Hamilton Wentworth District School Board and the City of Hamilton have not yet started negotiating a shared-use agreement for the track and field. The city has is planning to contribute $250,000 after an agreement is finalized.
When we develop these facilities, it's critically important we make them available, Eisenberger said.