Dundas' historic sports legacy helped build community
Historical society hosts talks on town's baseball, hockey, soccer
---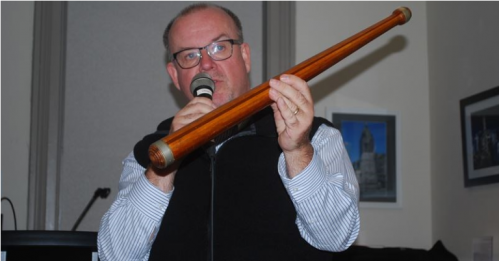 Kerry McNamara, a member of the Dundas Museum & Archives board of directors, displays an historic baseball bat that is part of the museum's collection during the Dundas Valley Historical Society's presentation Sports: A lasting legacy,Oct 2017. - Craig Campbell
Sports have left — and continue to build — a lasting legacy in Dundas, even for those who don't directly participate.
From the Dundas Real McCoys, who brought the eyes of the nation to the Valley Town when the Sr. A hockey team won the Allan Cup national championship in their home arena and also donate to charity on every game night, and the powerhouse Dundas United Soccer Club of the 1980s — who paid their own way to a national championship final in Victoria while celebrating the camaraderie and skill of the game, to the Dundas Chiefs Baseball Club and little league baseball — who helped build new baseball infrastructure that would introduce future generations to the game, Dundas' history is filled with fascinating sports stories.
A small cross-section of those legacies were shared by some who have played a role in that long legacy last Thursday evening at Dundas Valley Historical Society's Sports: A Lasting Legacy presentation at Dundas Museum and Archives.
Don Robertson, president and general manager of the Dundas Real McCoys Hockey Club; Kerry McNamara, former town councillor, Little League baseball coach and local historian; and Ken Beal, representing Dundas United Soccer Club, each spoke on the history and legacy of their individual sport.
"We're pretty proud of what we do," Robertson said of the McCoys. "We try to run it like a service club."
And he pointed out the team has brought more than 20 former NHL players to Dundas. But Robertson noted those players, and the nationally televised 2010 Hockeyville exhibition between Ottawa Senators and Buffalo Sabres, weren't Dundas' first taste of NHL hockey.
"Can you imagine …" Robertson asked the group gathered at the museum. "When the New York Rangers came to play an exhibition game in Dundas in 1956? And they played the Dundas juniors? Can you put that into perspective?"
Since then, the McCoys have put the eyes of Canada on Dundas, hosting and winning the 2014 Allan Cup national championship, which was televised on TSN.
Ken Beel noted Dundas United put the town on the map in the 1980s as a powerhouse team that not only went to a national championship but also hosted and defeated the Toronto Blizzard professional team in 1982.
He said no one was paid to play soccer for Dundas United, they brought their own passion to make the team successful.
"Soccer was not well supported in the 1980s," Beel said. "Sponsorship was a hard sell."
In 1984, Dundas United won the Ontario Cup and Central Canada final, and advanced to the Canada Cup in Victoria, B.C., raising money to pay their own way. They lost 1-0, but continued dominating Ontario throughout the 1980s.
"I can't say enough about the spirit of the team," Beel said.
Kerry McNamara pointed out Dundas has a very long history of baseball — the Dundas Chiefs competed for 93 years before folding in 2010 — but Little League came to town in the 1950s, when minor sports began to boom and more facilities were built.
"After the war, there was a change in mindset, more community involvement," McNamara said.
When Martino Field was built on top a former garbage dump, the population of Dundas was about 15,000, but 25 teams played on the one field.
Baseball boomed for some time, but saw declines and increases, dropping to about six teams in 1980 and rebounding to 24 by 1992.
All three sports have seen changes since the busy decades of the 1950s through the 1980s. Still, the infrastructure of arenas, diamonds and soccer fields spearheaded by volunteers in those years remain today.
"I don't think you'll ever replicate the 1980s," Beel said of Dundas United's glory years.
McNamara said demographic changes have affected sports in the community.
"There are fewer children in Dundas than there were. Its' a mature community," he said.
Robertson noted the work of volunteers in all sports helps promote and support the community.
"The things that hockey and soccer and baseball do for the community …. please thank them," he said.