Dundas midget Bruins cap successful season
Team has great run in city finals
---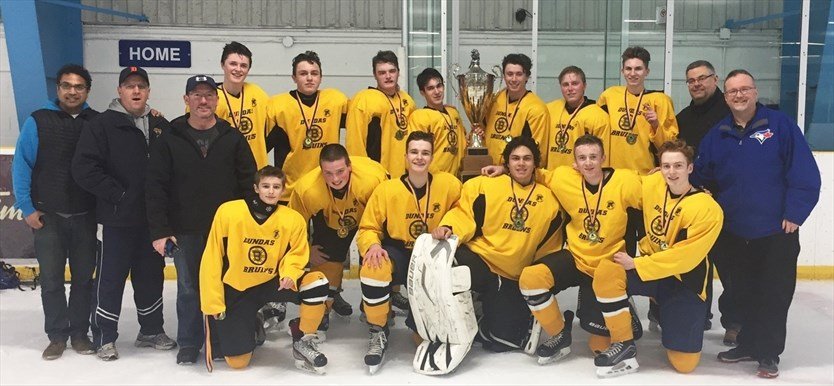 Front row: Tanner Witmer, Phillip Ferris, Tommy Stevens, Matthew Persadie, Kyle Young and Matt Czum. Back row: Richard Persadie (trainer), Terry Young (coach), Mike Czum (coach), Clayton Lawlor, Christian Kovacevic, Taiden Witmer, Connor Gibala, Grant Shewchyk, Ben Denomy, James MacNeil, Dave Ferris (head coach) and Dale Stevens, (manager).
The Dundas midget Bruins finished up a successful house league season with a great run in the Hamilton Minor Hockey Council Championships.
The Bruins finished the Dundas Minor Hockey Association regular season in first place, and captured the league title on Champ Day.
After a three-week absence, the Bruins hit the ice in the city championships. Their first game was a thrilling, tight checking affair with the Chedoke Stars. Christian Kovacevic scored in regulation, and Tommy Stevens and Grant Shewchyk found the back of the net in a nail-biting shootout.
In the quarter-finals, the Bruins faced off with the tournament favourites, Dofasco. Another great game electrified the crowd at Lawfield Arena. Tanner Witmer scored, but a late empty netter allowed Dofasco to escape with a 3-1 victory. Both games saw great performances in net from Matthew Persadie.