Dundas minor hockey partners with Flamborough in boundary pilot project
Arrangement hopes to maintain identity, secure viability
---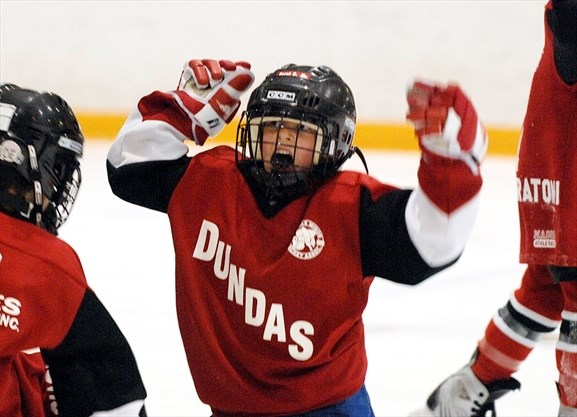 A two-year open-boundary pilot project between Dundas and Flamborough minor hockey associations will hopefully maintain small-town identity while securing long-term viability, the Dundas minor hockey association president said.
Kristina Dodd said the pilot project — one of three separate open-boundary pilots moving ahead for the 2018-19 hockey season — will have wrinkles that will take time to iron out.
"But it's a step in the right direction," Dodd said. "I am hopeful it will pave the way for open boundaries for all players, not just girls hockey, within the City of Hamilton. That's the long-term goal that our small group has been working toward all the time. It still remains the endgame for all four of our associations."
The Hamilton Huskies, Stoney Creek, Flamborough and Dundas minor hockey associations worked for two years with the City of Hamilton, Ontario Minor Hockey Association and Alliance minor hockey to propose an open-boundary pilot among the four organizations.
"The proposal was received and reviewed by both the OMHA and the Alliance," a city staff report states. "As the proposals would create precedence in the provincial hockey environment, a counterproposal was disseminated by the OMHA … ."
The counterproposal opens boundaries for players between three sets of paired associations in Hamilton — between Stoney Creek and the Huskies, Glanbrook minor hockey and Ancaster minor hockey, as well as Dundas and Flamborough.
Dodd said a positive turnaround from the three individual partnerships during their pilot projects could pave the way for further improvements to minor hockey boundaries in the future.
A post on the Flamborough minor hockey website from the two associations' directors states the collaboration will eliminate residential-boundary restrictions between Dundas and Flamborough and allow free player movement.
"These changes will allow any player the freedom of choice and movement to play at the representative level in either centre of their choice starting at the AA or A level," the post states. "We believe that by removing the restrictions of boundaries will encourage more kids to come out to play and thereby increase the number of families in our programs which will help sustain hockey in our respective communities
The pilot will be reviewed each year.