Dundas Grightmire Arena delays spark frustration over contractors
City councillors want better choices, tougher penalties
---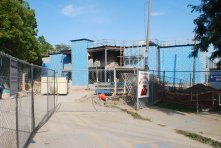 Details of delayed completion of J.L. Grightmire Arena's addition and renovation frustrated several politicians during the final city council meeting before October's municipal election.
They want improved procurement practices, and tougher penalties for contractors who don't meet commitments.
Facilities director Rome D'Angelo updated council on the project that was expected to be completed by Century Group Inc. by Sept. 7, then rescheduled to begin a "phased" opening Oct. 9 to allow hockey teams into the facility. Groups were informed before the end of September to be prepared to move back by January 2019.
The Sept. 26 written update states "delays to critical systems will push completion of the project out by a minimum of five weeks, until at least the week of Nov. 13."
That target is not solid, as staff await an updated construction schedule outlining the contractor's plan to address delays to sewer, water and gas hook-ups, replacement of the sprinkler system — plus completion of a half dozen other elements.
Asked a series of questions by Dundas Coun. Arlene VanderBeek, D'Angelo said he couldn't say with confidence work will be done by Nov. 13 — based on the contractor's history.
VanderBeek said she has no confidence the November goal will be met. She noted hockey clubs depend on attendance to pay their bills and face a challenge when they have to relocate.
The contractor reported delays due to extreme cold and heat, and delayed delivery of a custom HVAC system. Ontario's labour ministry also briefly shut down construction.
Ancaster Coun. Lloyd Ferguson said existing "liquidated damages" penalties of up to $1,000 per day is not enough.
"That's not incentive for a contractor to finish on time. It should be $10,000 minimum per day. We've got to make this a weapon to enforce," Ferguson said.
He said the procurement department is starting to deal with under performing contractors.
"This contractor seems like a candidate," Ferguson said.
Century Group was awarded the Grightmire contract after submitting the lowest bid for the project. The company renovated the Dundas library branch — which was completed a year late and $1 million over budget.
VanderBeek said she plans to follow up with the city's procurement and legal departments. She wants suggestions on how to insure contractors meet deadlines, and how procurement can be improved.
"We have to find a way to deal with this," she said. "We're taking the lowest bidder and there's a problem there.
"If you pay the cheapest price for something, you're going to have problems ... you get what you pay for."
Other councillors noted impacts on ice scheduling in their wards' arenas to accommodate relocated Dundas minor hockey, Junior Blues and Real McCoys - including the Harry Howell Arena at Clappison's Corners.
Flamborough Coun. Judi Partridge agreed with calls for tougher penalties and reviewing procurement practices and said, "We need to go further" with internal discussions on how hard the city pushes contractors.
Partridge said she's heard contractors suggest they can get away with delaying projects in Hamilton, while working on projects in other areas.