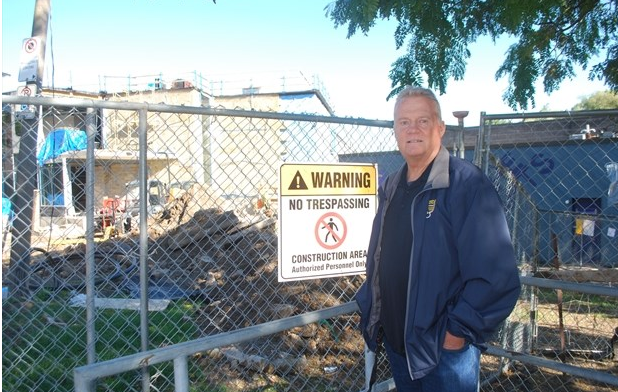 Dundas Blues president Steve Aglor outside J.L. Grightmire Arena eight months ago, as ongoing delays forced user groups out for a second season. The team is now preparing for its 60th season, back in its upgraded home rink. - Craig Campbell/Metroland
After two years of instability, the Dundas Blues Junior Hockey Club will renew itself with a return to its original name and its upgraded home in J.L. Grightmire Arena, in time for the club's 60th anniversary.
To top it off this season, Blues president and past player Steve Aglor will officially be inducted into the Dundas Sports Wall of Fame - which will finally make its permanent home in the new second storey of Grightmire Arena's addition.
The Blues maintain a two-year-old partnership with the Hamilton Huskies. Mike Spadafora, general manager of both organizations, asked Aglor what he thought about changing the team's name back to Dundas Blues from Hamilton Huskies Junior Blues - after one season.
"I've had a big smile on my face ever since," Aglor said.
Spadafora said the highly anticipated return to J.L. Grightmire Arena this September after two difficult seasons away, and the 60th anniversary, were key reasons for a step back on last season's name change. The City of Hamilton has taken over part of the arena from the contractor and just a couple of projects remainto be completed.
"Feedback I've received convinced me the team should be called the Dundas Blues," he said. "The partnership won't change."
Aglor said the only reason the six-decade old club is able to return to the refurbished and improved arena on Market Street is that very partnership which started two seasons ago.
Aglor and Spadafora agreed the completed facility will be the best hockey arena in Hamilton, and across its entire junior league.
"Everything will be top notch," Aglor said.