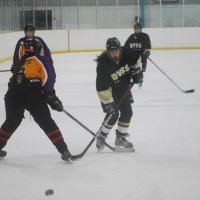 Dundas Valley Gryphons' Jenna Christiansen gets the puck past Ancaster Royals' defence during girls public high school hockey play on Tuesday, Feb. 13. Dundas Valley once again put plenty of pressure on an opponent, but this time failed to come up with a goal - losing 2-0 on a first period goal, and a empty-netter in the final five seconds of play after the Gryphons pulled their goalie in favour of an extra skater.
Dundas Valley Gryphons girls hockey team ended its regular season with a 3-1 loss to Waterdown, the Hamilton-Wentworth District School Board's top team in Division 1.
Only four public high school teams — Dundas Valley, Waterdown, Saltfleet and Ancaster — qualified to play in the board's sole competitive hockey league for girls. Dundas joined the league last season for the first time.
The Wednesday, Feb. 14 loss marked Dundas Valley's sixth in six games this season, but four of those losses came by just one goal, including two 3-2 games with Saltfleet and a 4-3 squeaker with Ancaster.
"Considering we only had 10 skaters, we were pleased with the performance."
Coach Bob Gardiner