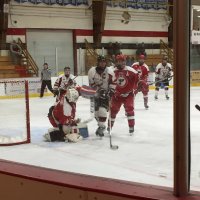 The Hamilton Huskies Jr Blues played three times this past week winning all three games. It started last Sunday on the road in Port Dover where Jamison Buck was set up by Carter Franks to score with one minute left in the game to give the Blues a 3-2 win over the Sailors. The other goals were scored by Matt Wright from Ryan Chandler, then Chris Cudek scored from Brandon Waterhouse and Buck. Connor Ogg earned the win in net with 27 saves.
At home on Thursday night the Blues beat Hespeler Shamrocks by a score of 6-3. Buck led the Blues with 2 goals, while Stephen Bell, Franks, Cudek and Dan Attridge each scored once. Milan Bango, Pat Vulgan and Wright each had 2 assists, while one each went to Will Thomas, Connor Pilon, Jacob Bishop and Waterhouse. Ogg earned his second consecutive win making 20 saves. That gives Ogg his third win of the season.
Saturday night it was off to Hagersville to take on the Hawks. Where the Blues skated away with a 5-1 victory for another win and topping off a good week on the ice. Cudek with 2.6 seconds left in the 1st period put the Blues on the scoreboard and up 1-0. The Blues came out in the second period firing on all cylinders and it continued for the rest of the game. Colin Kijowski had a good night scoring once and also earning two assists. Other goal scorers were Pilon, Bell and Franks. Jake Fleming earned his first win in goal making 41 saves.
The hard work of the coaching staff and players in practice is paying off as the team looks stronger every game they play. They are now sitting in third place with 4 wins and 2 lossses.
Note: The Blues will be playing all their home games at Chedoke Arena with a 7pm start until Market St Arena has been completed, which can't come soon enough. They also found out this week they will be practicing on two different ice surfaces from which they play their home games on which is not the best for preparing for games. The first game for the Blues in their second temporary home rink of the season is this Thursday October 4th against the Port Dover Sailors. Come up the hill and support the Blues!