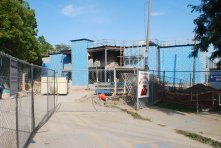 Details of delayed completion of J.L. Grightmire Arena's addition and renovation frustrated several politicians during the final city council meeting before October's municipal election.
They want improved procurement practices, and tougher penalties for contractors who don't meet commitments.
Facilities director Rome D'Angelo updated council on the project that was expected to be completed by Century Group Inc. by Sept. 7, then rescheduled to begin a "phased" opening Oct. 9 to allow hockey teams into the facility. Groups were informed before the end of September to be prepared to move back by January 2019.